Beach Handball Rules
To play or even bet on beach handball, you must understand its rules. Beach handball requires at least 4 players on each team. Three players run on the court while one acts as the keeper. The other players sit on the side as substitutes and remain in the substitution area. If a player is present at the start of the game, they can join in, when necessary, through the substitution line. Any player who tries to enter the court without getting entitlement from the scorekeeper gets disqualified. Several variations exist in the rules, and to be on the safe side, players must always check with the IHF (international handball federation) guidelines.
Popular Beach Handball Events
Beach handball, while relatively new, has warmed its way into both players' and punters' hearts. It features several huge competitions: the world beach games, the youth beach handball world championship, the world championships, and the world games. These events attract a crowd of fans eager to see which team will emerge as the winner.
The world championships, organized by the International Handball Federation, feature 16 teams from 5 continents. They take place every two years with knock-out stages over 6 days featuring four teams in four groups. Hungary has participated in these games for 7 years now and was there for the championship's debut.
Beach handball featured as an invitational sport in the world games from 2001. It has, however, become an official sport following its integration into the program in 2013. The youth edition, which is the newest in the category, established in 2017, has also been making waves in the beach handball scene.
Popularity in Hungary
Hungarians enjoy handball, and beach handball is not an exception. Currently, the team boasts of women and men's national beach handball teams.
The Men's Team
The men's side is equally good, led by the very able István Gulyás. In 2004 during its debut at the world championships, it clinched 6th position before coming in 5th in 2006. Subsequent positions included 7th (2008), 2nd (2010), 4th (2016) and 3rd (2018). The team, which falls under the Hungarian Handball Federation, has also participated in European championships in 2007 and 2009.
Additionally, the men's team has featured in the world games twice, once in 2009 (2nd place) and again in 2017 (4th place).
Women's Team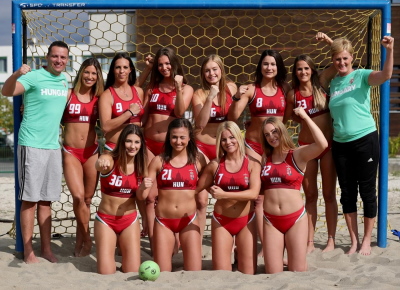 The women's team first started making appearances in the world championships in 2004. That year, they came in 5th, which was quite a big fete for first-timers. They subsequently showed up in 2006 (7th place), 2010 (7th place), 2012 (4th place), 2014 (2nd place), and 2016 (4th place). Their outstanding performances put Hungary on the beach handball map and further fueled interest in the game. Moreover, they have participated in European championships, too, where they have done exemplarily well. In 2009, they came up 6th, then 5th, during the 2011 competition. In both 2013 and 2015, they won the championship and bagged gold medals. In 2017, they suffered a stumble and came in 10th place before making a remarkable improvement in 2019 when they came in 2nd.
The women's team has also featured in the world games, coming in 2nd place in 2005 and 2013. Furthermore, they have also participated in the world beach games, where they came in 2nd to Denmark in 2019. The women's youth team recently bagged during the 2017 championship held in Mauritius to crown it all.
Can you Bet on Beach Handball?
Yes! Beach handball has pretty much the same opportunities as standard handball matches. From matched bets to prop bets down to handicap bets, you can wager on the outcome of any game right from your phone. In addition, most bookies offer live streaming, which helps you keep track of the game and even place more wagers as the match continues. With sign-up bonuses and continuous promotions on your side, you can reduce your stake and still get a big payout from your prediction.
Currently, Brazil leads in men's beach handball in the IHF games, while Greece has the women's side covered. However, with Hungary continuously training and previously made a mark in other championships, its time to shine is not far off.